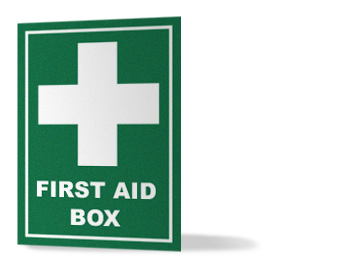 Case Study 7
Multi National Facilities Management Company/ Superannuation Funds Manager - Major Industrial Complex: Roof Access - Asbestos Warning, Site Speed Reduction, Site Safety, Traffic Management
This particular site, in Adelaide, is a former GM Holden manufacturing facility, before the site was decommissioned some years prior. Following a major remediation, construction & landscaping phase, the Facilities Managers of this site conducted a major safety audit that highlighted a number of key areas of concern.
They included:
Asbestos building wall & roof cladding - potential damage if worked upon
Speed within the complex by heavy articulated vehicles, passenger cars, forklifts etc
Traffic management control - intersections & blind corners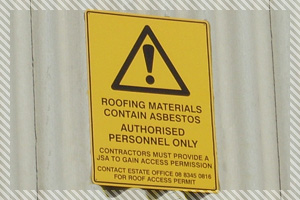 Maintcomm was recommended to this customer due to our knowledge & experience with these type of sites. We worked closely with the Facilites Manager & his team, undertook a site assessment & reported upon the most appropriate products to use.

To address the number of buildings within the complex, that have stable asbestos roof & wall cladding, Maintcomm suggested the use of a sign plate in size 450mm x 600mm in strong colour bond steel, as it would be able to be seen at distance of up 35 metres. We wrote the warning text, manufactured the high visibility yellow / black signs & fitted them to the buildings using safe working methods, as the majority of the signs had to be placed several metres above ground on the cladding. These signs now form a standard asbestos warning sign within our range of custom signage.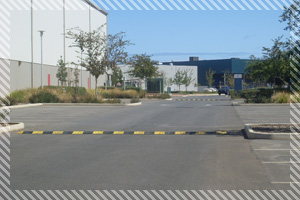 Speed is a major issue within most transport or industrial facilities. As this site is a multi-dimensional manufacturing/customs/retail/timber wholesale facility, we noted the high volume of heavy articulated, heavy rigid, commercial & passenger vehicles. This site has a blanket 25Km/h speed limit and is rigidly enforced. To further reduce the potential for vehicle incidents, Maintcomm supplied & installed some 65 metres of the 50mm high by 900mm wide green credentialed rubber speed cushions throughout the complex.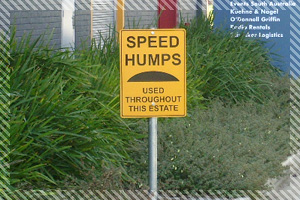 To raise awareness of the use of speed cushions we supplied & fitted Speed Hump signage at the entry, inbound access road and at various points within the complex.
These speed cushions are designed primarily for heavy vehicles; however they are becoming more popular in other types of complexes.
In addition to this, Maintcomm refurbished & installed 25 metres of 60mm speed humps that run between the tenancies in limited access areas.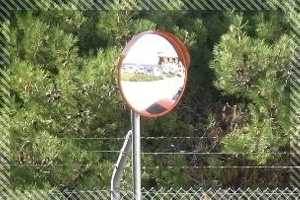 Traffic management is a top priority within this site. With automotive manufacturing on one side & electrical contracting on the other, the Facilities Management team needed to prevent vehicle incidents occurring between these areas.
Our solution was to supply & fit high visibility Class 1 Reflective Stop Signs to opposing sides of the vehicle apron & to supply & fit a 600mm heavy duty, maintenance free, indestructible stainless steel convex mirrors. These mirrors allow you to see up to 25 metres of oncoming traffic - both ways, as these units were fitted at the intersection between the tenancies. In addition to all these, Maintcomm supplied & fitted Give Way signage at the entry & fitted customer supplied traffic signage to our 60mm o/d signage posts.
"We were referred to Maintcomm because of their experience & knowledge of industrial complexes. What we didn't know was that Maintcomm's Managing Director had an intimate knowledge of the site - but this just made our experience with them a great one. Their level of attention to detail, customer service & ability to make everybody, including the tenants, a part of the project really bode well for us. We never had a company like Maintcomm make us feel that we worked as a team to achieve our safety goals. Maintcomm made our life easy throughout the project - communication par excellance'".

Brian - Facilities Manager Multi National Facilities Company
"Want more products? Click here for our Comprehensive Hard Copy Catalogue."